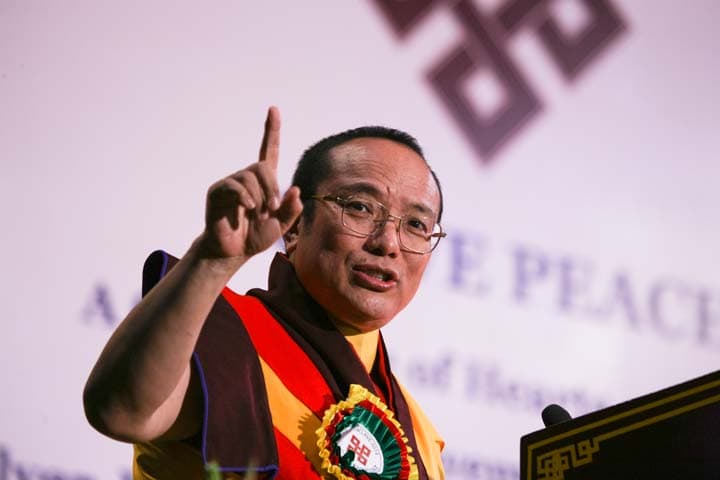 When H.H. the 12th Chamgon Kenting Tai Situpa resumed his traditional dharma activities in India at the age of 22, he started paying close attention to the enormous suffering from human and animals, as well as to the environmental degradation. Side by side with scientific and socio-economic progress, his immediate initiative was to assemble a team from Palpung Sherabling Monastic Seat to prevent the yearly wild fire in the forest. Followed by his immense care for the people, Palpung Sherabling Monastic Seat began to provide free medical care to the neighborhood communities and the surrounding villages for decades up to now. Meanwhile, he patiently took time to educate people with proper health care documentaries and environmental protection materials to arouse people's awareness towards the intricacies of the environmental issues. During his stay in Ladakh, he focused on planting trees and sowed local wild grass seeds to the surrounding of the Maha Monastery where he stayed for a couple of years. For spiritual and mental well-being, he also initiated the annual Billion Mantra Recitations activities in India and Nepal which are mostly being carried out till now. In many of the large gatherings and teachings over the years, His Holiness always took the opportunity to advise people of the harmful effects from alcohol, tobacco and drugs. Seeing the positive results from his guidance that many people quit indulging themselves with harmful substances, he started contemplating plans on taking it further to benefit broader audiences.
From 1980, H.H. the 12th Chamgon Kenting Tai Situpa began traveling extensively around the globe through invitations from dharma centers worldwide where he got to interacted with people from various Buddhist schools such as Zen, Theravada and Mahayana. Through his travels, he also encountered and engaged with numerous spiritual and religious leaders from various faiths such as Christians, Native Americans, Jews, African Religions, Sufis, Hindus, Jains, Sikhs, Muslims and others. In 1984, the first Maitreya Institute was established in Hawaii, followed by San Francisco and France. The purpose was to provide a platform for the dedicated figures from the societies, regardless of religion and faith to talk on topics of health, environment and a wholesome way of life from loving kindness perspective.
There will never be one time when everything is PEACEFUL and it will go on forever. You have to WORK for it. You have to MAINTAIN it. You have to continuously be aware.

Happiness is when what you think, what you say, and what you do are in HARMONY
There is no such thing as border when it comes to global weather systems and global health issues. If the polar ice melts, then water levels will rise and coastal cities will be flooded. Human population keeps on growing, but land cannot grow. We should understand that everything works as ONE WORLD.
On 16th of March, 2020, His Holiness the 12th Chamgon Kenting Tai Situpa, joined by His Holiness Acharya Mahamandaleshwar Swami Avdheshanand Giri conducted a grand fire puja dedicated for world peace and harmony. The program, World Peace Yagya, organized by Palpung Munishasan Dharma Chakra Sangh took place at Palpung Sherabling Monastic Seat. The intent of the grand fire puja is to invoke blessings of the enlightened ones of the Divine by making offerings and to pacify the beings in the lower realms by providing contentment so any disturbance that has caused disharmony of the world can be subsided and balance restored.
Both Holinesses will address their messages upon this holy event for the benefit of all the living beings of the world.
May the vision and efforts of His Holiness spread wide and be carried out by each and every one of us to benefit all sentient beings. We all share this very One World. Active Peace is the viable solution to make the world a better place. United together in harmony as One Humanity, we can turn today's dream into tomorrow's reality. We believe in the miracles of the mankind united as one. That is "Active Peace – One World, One Humanity."
To learn more about H.H. the 12th Chamgon Kenting Tai Situpa, visit Palpung Sherabling Monastic Seat official website at
http://www.palpung.org